---
Kaamu felt weird the minute she woke up in the morning. She casually ran her right hand over her entire body and instantly entered into her childhood memory lane where her father used to caress her forehead sitting in the shade of the margosa tree in their front courtyard. But he never did so in the  years that followed. Holding her hands he just wished her well in a hoarse voice as she left home after marriage. Her mother never forgot to detach Kaamu's hand from her father's even then.
She looked at Ganesan lying nearby, with a mouth that was wide open and snoring nastily. Many number of times it had occurred to her that why she  was not able to ask her father to choose a  bridegroom who doesn't snore. In her adolescence she disliked  Daniel uncle only for this reason. The tasty 'bombay Savouries', which he had bought from the Sakthi Vinayaka street corner was also left untouched by her. Once she travelled with him by bus from Junction to Samadhanapuram. He had put her on his lap and slept. His drooling and snoring made her feel sick in the stomach. She couldn't stop vomitting as they got down from the bus.
When Ganesan raised his hand to beat her and called her a " bloody female"  yesterday, kaamu felt the same sickening feeling in the stomach. 
"Couldn't you cook well?" He asked.
Past three days she had her menstural cycle and was bleeding badly as though it was a tap left open. She experienced a steep pain in the lower abdomen. When she told him this " Wow.. great ! you are the only one who seem to endure it in the entire universe " was his  reply. His words hit her hard and she felt the overflow of blood in every inch of the body. Down the memory lane she had recollections of  that day on seeing her skirt  stained in blood  for the first time, she called her mother huskily as she  reached the backyard. Her mother checked the wet skirt with worried eyes. But still held her close to the chest in that dark backyard.That was one of the many instances when she felt her mother so dear. There was always a scent of sweat and smoke on her mother. During the first month of puberty she washed the blood stained cloth and said," From next month onwards you have to wash it by yourself, Kaamu". Her eyes went sour when her mother scrubbed her blood from the cloth. While taking bath she noticed that  buds had started appearing on her chest. The very touch gave a new feel altogether. Though she thought of informing this to her mother something was holding her back. Kaamu felt that her mother was little worried about her daughter's body when she saw her breasts protruding on the shirt.
" yuck! These fellows follow us only for this" Kamali used to say. When they were standing in the queue at the Royal Theatre to watch the movie- "Mouna raagam" , an unknown guy pressed Kamali's breasts and fled. This incident made Kamali live with the single thought of protecting her breasts. After she started wearing sarees, she kept adjusting the pallu every now and then as she had to protect the breasts beneath. Whenever Kaamu came across women visiting vegetable shops with a shawl on their night dress she was reminded of Kamali.   "'Are breasts a treasure to hide  behind cloth after cloth atop?' was her thought. She couldn't forget how Aazhvaarthirunageri Grandmaa used to  sleep, placing her head on the lattice, leaving her breast on one side open without  wearing a blouse. 
After Paappu was born she felt furious about that one first person who converted breast as an object of lust. When Paapu with her tiny mouth latched the breasts and sucked, her engorged breasts secreted milk. Paapu would sleep embracing her mother's breasts till date. When Ganesan said " you have given birth to a female child" countless times in an accusing voice, Kaamu felt like holding Paappu close to the chest. Ganesan assumed that Paappu might attain puberty within the next two years. Whenever he spoke to her after consuming alcohol he would say, "Should arrange for a function. Need money for it. You womenfolk deliver girl children just to make us spend money on them". Kaamu would feel like holding Paappu tightly to her chest. During such nights Paappu would  think that she should never leave such longing breasts, ever.
Kaamu wanted Paappu to get some milk and found her fast asleep covering herself from head to toe. 'Poor girl! She hadn't even eaten properly and had  been studying real hard  since last week for her exams'. So, Kaamu didn't feel like waking her up; she entered the bathroom. The napkin and the skirt were completely  wet with blood stains. She remembered the words of a fat lady Doctor on TV  the other day that excessive bleeding were symptoms of cancer. Wrapping the napkin with a piece of paper she threw it in a dustbin at the backyard. This is the greatest  privilege she enjoyed after the demise of her mother-in-law until which, it was used  only stealthily.
Her lamentations such as, "These modern days ! People are lazy to use cloth. Want to spend on napkins" went wandering through out the house. During those instances a thought used to occur to Kaamu that how many days her mother-in-law might have lived with her vagina stained with blood since the day of puberty. The scars created by rough edges of the cloth pressing her thighs had never been thrown as words on Kaamu by her mother-in-law, she realised. She decided by herself that it might even be some sort of an envious feeling or it could have been a desire that those rascals could have invented napkins little earlier. Kamali thought that her mother-in-law's nights too would have been immersed with dreams about napkins.
For a minute she felt like laughing and singing a song. Humming a song which she had heard a day earlier, she started to wear the napkin. Nowadays there  is no trouble of connecting it with the ropes. Pasting was sufficient. May be an alternate for this might also be invented later. When she laughed slightly she realised that the sound wasn't coming from the lips. For a minute she looked closely at her face in the bathroom mirror and started humming the same song again, softly. The sound wasn't coming from the lips but from the chest region. Anxiety gripped her senses. Staring at the mirror she started to sing loudly. The breasts slowly cracked open like lips and the nipples expanded. This sight made her weak in the knees.
Kaamu panicked as she felt this as some  big  mistake. She immediately wanted to inform Ganesan, ask him to take her to a Doctor. She came out of the bathroom nervously  and closed the door. There was no noise from that rusty door which would dash against the wall each time it was used. Not a minuscule of noise was heard when she opened and closed the door again now, in order to check it.
Entering the hall anxiously she saw her dead mother-in- law's photograph in which the face was replaced by breasts. She felt like she had lost herself  on a street where women wander with breasts, that were transformed into their faces. When Paappu turned aside and called her  'Mom",  her breasts opened and closed for an instant. 'Would different types  of outfits make us hide the face and display breasts instead?' was her thought. She became anxious, sat in a chair and started sweating.
Kaamu tried to wake up Ganesan once again. While she was about to call him," oh dear" , the breast called out "Ganesaa". On hearing this, he woke up appalled to the core. He was unable to move his lips as he felt it glued. He became furious on being called by name by the wife. The inability to abuse her for this  immediately gave him a feeling of failure which was shown on his face. He clutched her hands tightly and informed her through signs, that he wasn't able to speak. His arrogance had suddenly disappeared and he had the looks of Paappu who would usually hold Kaamu tight to the chest.
"Don't worry" she said. He looked surprised and scared at the opening and closing of her breasts while she spoke. He caressed her cheeks and she felt that the script of a language was lying broken in it. The sudden lack of speech was permeated in his eyes. She moved away from him and walked towards the door. Her foot prints were filled in blood. Ganesan swiftly ran ahead of her, pointed at the blood filled foot prints, his hands travelled through the lower part of her body and touched her abdomen. His hands became sticky with blood. He searched some place to wipe it off and without second thoughts he wiped it on the inner part of his waist cloth. He showed signs as though his hands had started paining. Kaamu wanted to show him his mother's photograph. Taking his hands into hers, she left the room.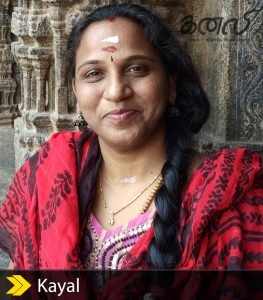 Once Ganesan saw his mother's photograph in the hall his senses were softened and she felt it when he loosened his grip on her hands. A thin layer of wetness formed in his eyes. Kaamu hugged him closely to the chest like she does Paappu. It looked as though he had become a small kid much  younger to Paappu. Just like the previous day she suddenly had excessive blood flow today also. Having felt her wet skirt, Ganesan made her sit down and brought napkins from the room. The feel of touching the napkin for the first time was seen on his face. With the compassion of a mother he helped her out in changing it
"Ganesaa! You could have stayed with me like this when I delivered Paappu. With steep charging pain hitting me I was inhaling breath, pushing repeatedly and when Paappu came out fluttering like a butterfly, you could have  been there to hold her in adoration and kissed her on the forehead" she said. Having said these words the breasts became wet. He touched the breasts  kindly. Kaamu felt as though he uttered the words " I should have been there".
A butterfly flew on her at that moment. It's colours fell on him. This could be the butterfly that was sent by Kamali, she thought. 
" Thank goodness that nobody made posters of our breasts"  said the butterfly in her ears. 
Kaamu asked "How is Kamali? Where is she now?"
The butterfly replied "She has breast cancer. One of her breasts had been removed. She has become dark due to chemotherapy. Consumed by the fear of death she is lying on a bed near the window in a hospital. I visit her everyday in the morning for a chat. Am travelling with her pains and desires. I have even shared with her, our pain of not possessing uteruses, denial of our desire for a chance to fly bearing our insects"
The butterfly kept flying around the entire house eagerly. Once it sat on the wetness of the bathroom it's colours started flowing on the floor. When it came out enthusiastically, the rusty bathroom door dashed against the wall, noiseless.
---
Dhamayanthi

Translated by

Kayal